"What is a funnel anyway?" For an online business owner, a sales funnel is probably the most important marketing tool you have. And yet many entrepreneurs – both new and established – have no clear understanding of what a funnel is or how it works.
As you can imagine, failing to fully understand this critical part of your business means fewer sales, lower profits, and ultimately, an unstable business.
Also, this episode marks the 52nd episode of the podcast meaning we are celebrating our 1 year anniversary!  Thanks to all my loyal listeners.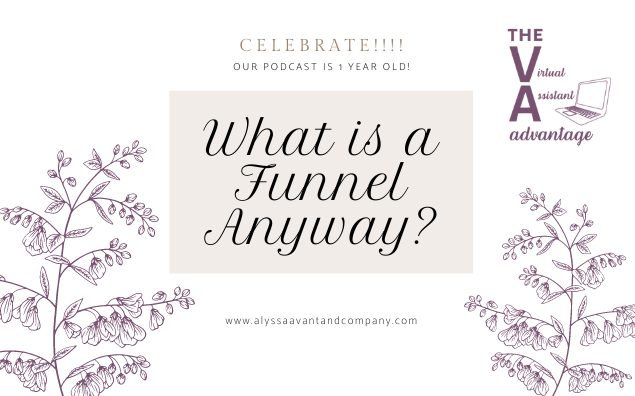 As a Virtual Assistant, understanding funnels is a MUST if you want to offer things such as landing pages, email marketing services, or helping to set up a funnel from start to finish.
Simple Sales Funnel
The most basic sales funnel will consist of free content (top of the funnel) -> offer that requires a small payment (typically an email address).  People who pay this small price continue moving in the funnel and get offered more products.  The more they purchase from you the closer they move to the top of the funnel.
How Does a Funnel Work?
If you imagine an actual funnel, with the large part of the opening at the top and the small opening at the bottom, it is easy to see how your free content is consumed by the largest number of readers.  Below this is your extremely low-cost items.  Lastly, at the tip of your funnel you will find your most loyal fans and customers who purchase your high ticket offers.
Your job, as the business owner, is to make sure that your funnel buyers make it all the way through your funnel.
The more buyers you can keep in your funnel, the more money you will make.
If you truly want your business to grow, you have to master the entire process.
As always, I hope you've enjoyed What is a Funnel Anyway? here on the Virtual Assistant Advantage podcast.
Make sure to tune into the rest of this series to learn all about funnels.
I hope you have a great rest of your week, stay safe, and I look forward to connecting with you again next week!
STAY CONNECTED
Subscribe to The Virtual Assistant Advantage podcast on your favorite podcast app.  New episodes are released every Thursday.  Also, I'd love it if you would Follow Me on social media:
Join my The Virtual Assistant Advantage Facebook group.  In the Facebook group, we chat about all things virtual assistant related and I do a weekly Facebook LIVE on topics to help you grow your business.  I'd love to have you in the group so I can get to know you!  It is a great place to network and ask questions.