In this episode, ( Is Becoming a VA Right for You? ) of The Virtual Assistant Advantage podcast we talk through five questions that you can ask yourself to determine if becoming a virtual assistant is right for you.  I even created a quiz to help you decide.  You can take the quiz at http://new.virtualassistantadvantage.com/quiz.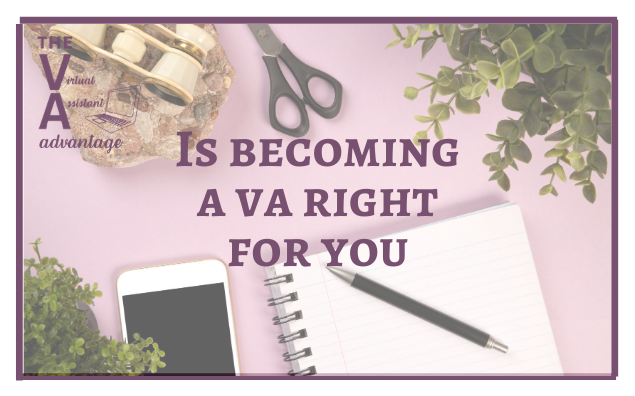 There are 5 questions to ask yourself to determine if becoming a VA is right for you.
Are you looking for a hobby or a business? You need to determine this with any money-making endeavor.  As a VA it is important to offer high-quality services and customer service to help people with their businesses (which they are very serious about).  People who become VAs but treat their business more as a hobby rather than a business tend to give all VAs a bad reputation.
Why do I want to become a VA? Is it money, a sense of service, or something else? There is absolutely nothing wrong with your "Why" being because you want to make an income.  Having the need to create a steady income is a great reason for becoming a VA.  There are so many great reason's to become a VA that the list is endless!
What is becoming a VA really like?  Being a VA is all about serving others in their businesses.  We, as Virtual assistants, are in a business of service-based tasks in exchange for payment.
What are the barriers of becoming a VA?  A  lot of people think that this is a saturated industry and this couldn't be further from the truth.  So many people are looking for VA services and what one person offers will fit one person while the services of another VA will fit another one. There are things you need to have in order to have a VA business (Ex: internet, a good functioning computer, time to put into the business).
What skills do I have to offer as a VA?   Many people believe that they have no skills but there are so many marketable skills that we each have that we take for granted (Ex: copy and paste, data entry, graphic creation) the list is truly endless.
In my course How to Become a VA I offer over 300 ways that you can become a VA.
STAY CONNECTED
Subscribe to The Virtual Assistant Advantage podcast on your favorite podcast app.  New episodes released every Thursday.  Also, I'd love it if you would Follow Me on social media:
Join my  Virtual Assistant Advantage Facebook group.  In the Facebook group, we chat about all things virtual assistant related and I do a weekly Facebook LIVE on topics to help you grow your business.  I'd love to have you in the group so I can get to know you!  It is a great place to network and ask questions.