In today's episode of the Virtual Assistant Advantage podcast, we talk about 4 Systems Every Business Owner Needs.  These systems will not only help you to streamline your business but will also give you peace of mind and security.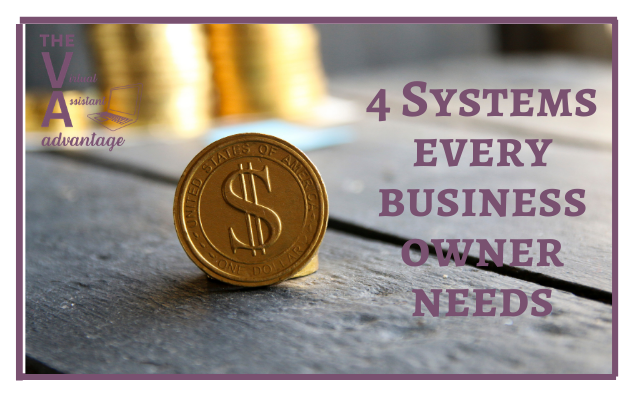 Ok, so here are just my, personal top 4 choices of my top 4 Systems Every Business Owner Needs.  Everyone is different and has their own ways of doing things. But, maybe this list can help you get a jump start on things that you can implement in your own business to help you save time and accomplish your goals in less time.
Project Management – I know y'all have heard me talk about this time and again but, I do so because I find it SO important in helps make my life easier!   By entering all of your data into a project management system you make it where you can see what needs to be done at a glance!  There are quite a few different programs/apps for this.  You can look at some of them here.  Just a few, off the top of my head, are Asana(my personal favorite), Trello, BaseCamp, and Teamwork.
Set up a system to keep up with all of your documentation and/or to create your SOPs (Standard Operating Procedures).  It is important to document the steps you take to get certain things done in your business.  This is not only important for you to create more organization in your business but it will also save you time.  If you have an SOP created for things you routinely do in your business you will be certain to cover all of the steps you need to do in order to complete the task with no mistakes!
Time Blocking – I know you have heard me repeatedly talking about how important it is to create a schedule by blocking your time to complete tasks.  I talk about this so much because it is such a BIG help!  When you make appointments with yourself to schedule times to do things like checking your email, when you will work on client jobs, working on your own business, etc. you will find that you will be much more productive!  By scheduling these things (and stick to it) it will force you to get your work done and keep you more focused.  It helps you from getting sucked into the social media vortex (it's ok, we have all been there).  You will be able to look back on your week and see how much progress you've made.
Create a system for your social media.  Create time (and don't forget to schedule it when you are time-blocking!) to create and schedule your posts as well as time for you to engage with your audience.  While creating content to post on your social media profiles is so important, it is just as important to schedule time to engage with your audience.  If we do not engage with our audience they may begin to "get bored" or aggravated with the lack of engagement and either stop engaging themselves or stop following us all together.  By having a system/plan in place it will be more likely that you will get things done and accomplish the things to are working for!
STAY CONNECTED
Subscribe to The Virtual Assistant Advantage podcast on your favorite podcast app.  Also, follow me on social media:
Join my  Virtual Assistant Advantage Facebook group.  In the Facebook group, we chat about all things virtual assistant related and I do a weekly Facebook LIVE on topics to help you grow your business.  I'd love to have you in the group so I can get to know you!