In today's episode of the Virtual Assistant Advantage Podcast, we are talking about how to get paid.  We are all in business for at least one purpose and that is to make money.  So as a Virtual Assistant exactly how do you choose to get paid by your clients?
One way to get paid from your clients is by using an app such as Stripe or Paypal.  You can use this on your smartphone or from the computer as a way to process credit cards. 
One way to get paid is by using PayPal.  I personally have had and used a PayPal Business account for a number of years.  I also have a PayPal Debit card that I am able to use to purchase things for my business as long as there is money in my PayPal account. 
Again, this option has both pros and cons.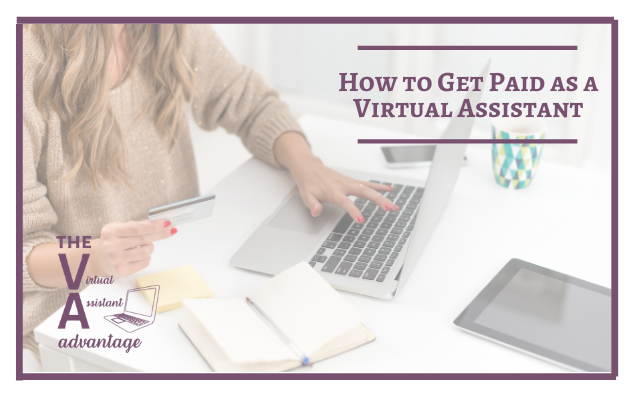 Pros
PayPal has the option of invoicing right from its platform, helping you to keep up with reports and income right in your PayPal account. 
PayPal allows you to pay your business expenses right from the account using the income from your business.  I use my PayPal account as a business account, as I recommended that you do in the earlier chapter on budgeting. 
PayPal also integrates well with other software you might choose to use for your business, such as shopping carts or auto-responders. 
PayPal will allow clients to pay their invoices whether they have a PayPal account or not using a credit or debit card or with their own PayPal account or checking account if they have a PayPal account themselves.
Cons
Not all clients will want to use PayPal to pay their invoices. 
PayPal charges a fee of 2.9% + $0.30 per transaction.
In my opinion, there will always be fees associated with doing business and you cannot go wrong with either service; however, I have used PayPal much more frequently. 
Now, Let's look at Stripe.  This option has both pros and cons:
Pros
Can be used with invoicing systems such as Freshbooks or Wave.  
You can literally process payments from anywhere using the app on your cell phone.
Cons
Not all clients will want to pay using credit cards.

The Square app charges 2.9% + $0.30 per transaction.  
STAY CONNECTED
Subscribe to The Virtual Assistant Advantage podcast on your favorite podcast app.  New episodes release every Thursday.  Also, Follow Me on social media:
Join my The Virtual Assistant Advantage Facebook group.  In the Facebook group, we chat about all things virtual assistant related and I do a weekly Facebook LIVE on topics to help you grow your business.  I'd love to have you in the group so I can get to know you!