Let's talk about my favorite plugins for WordPress today.  There are tons of options when using WordPress and if users choose the right ones, plugins can give you endless options.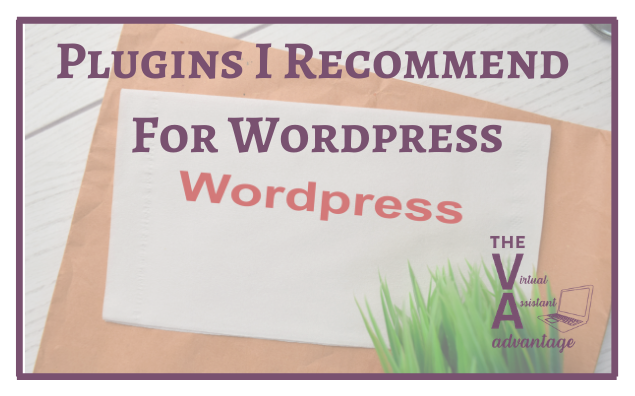 Yes, to get certain features, you may need to have a subscription but I always recommend trying the free version first.  You may find that the free version has everything you need and you are able to save money for something else you may need it for.
Just in case this is new to you, using plugins gives you "extras" when you are using WordPress that you wouldn't have if you didn't have a plugin installed giving you the options to do that specific thing.
And, just a little tip before we start.  When you are choosing the plugins you are wanting to use, make sure you chose plugins that are up to date.  Also, look and see when the last update was.  If the developers do not keep things current, it may not be the best plugin for you to use.
My favorite WordPress plugins
Yoast SEO – All in one SEO solution.  There are so many reasons I love using this plugin to track my analytics and to help me be seen more in Google.  Yoast is free but there also is a paid version with more features
Akismet – An anti-spam plugin.  This is free but they do ask for a donation if you are using it in order to give back to the creators.
 Google Analytics Dashboard for WordPress – displays your Google analytics directly onto your dashboard so you don't have to go sign in to Google every time you want to check out your analytics.  It gives you some information for free but, if you want all the things you will have to invest in their paid version,
Optimize Press – Even though this is a paid-only plugin it is well worth it.  It allows you to create landing pages, sales pages, funnels, etc.
Pretty Links – allows you to shrink, track, and share any URL in your website.  There is a free as well as a paid version.
Updraft Plus – This is a backup and restore plugin.  There is a free as well as a paid version.  This plugin allows you to schedule your backups.  It is a plugin that works behind the scenes to help ensure that you don't lose all of your hard work.
These are 6 of the plugins I recommend for WordPress.  I hope that this has been helpful and I thank you for listening to my podcast and/or reading my blog.  I appreciate each and every one of you so much.
STAY CONNECTED
Subscribe to The Virtual Assistant Advantage podcast on your favorite podcast app.  New episodes released every Thursday.  Also, I'd love it if you would Follow Me on social media:
Join my The Virtual Assistant Advantage Facebook group.  In the Facebook group, we chat about all things virtual assistant related and I do a weekly Facebook LIVE on topics to help you grow your business.  I'd love to have you in the group so I can get to know you!  It is a great place to network and ask questions.