Hopefully we can help you decide on your niche with Possible Niches for the Virtual Assistant. Do you struggle a little bit in finding your business' niche? It can be hard to find something that works for you and your business while still being profitable.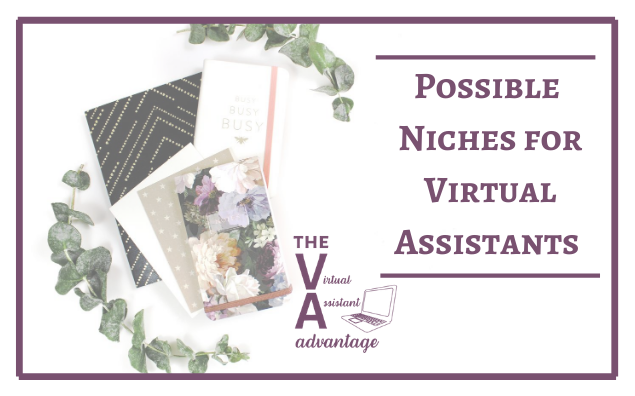 SUBSCRIBE TO THE PODCAST HERE
In this episode, we are talking about possible niches. A niche is a target market or those who you desire to work within the virtual assistant world. It really is a great thing but what makes it difficult is the fact that there are so many possibilities to choose from. All of those options can for sure be overwhelming but important, nonetheless. To hear more about how to choose your niche be sure to give the episode a listen! 
When you are working on "niching down" think about who your ideal client will be.  What type of person would you love to work with.   Is it mompreneurs?  People who are rushing to do all the things to get their business up and running? Coaches or mentors?
Just in case you are wondering, some of the niches that we talk about in this episode include:
Real Estate Virtual Assistant
Bookkeeping Virtual Assistant
Health / Wellness Virtual Assistant
and many more …
We hope you enjoyed Possible Niches for the Virtual Assistant and that it has helped you to narrow down your search of your preferred niche!
CHECK OUT OUR LATEST EPISODES
Best Free Programs for Virtual Assistants
STAY CONNECTED
Subscribe to The Virtual Assistant Advantage podcast on your favorite podcast app.  New episodes release every Thursday.  Also, Follow Me on social media:
Join my Growing Christian Virtual Assistant Advantage Facebook group.  In the Facebook group, we chat about all things virtual assistant related and I do a weekly Facebook LIVE on topics to help you grow your business.  I'd love to have you in the group so I can get to know you!