Do you have a free consultation with a potential client and don't know what questions to ask them to make the most of it? Today's episode will help give you some ideas on just what to ask.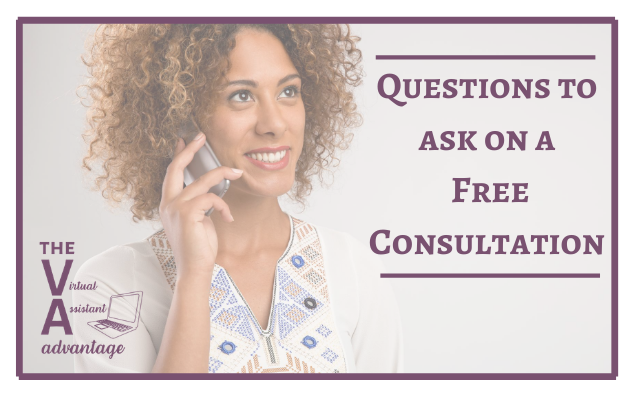 Questions to Ask Your Potential Client
#1:  Tell me about yourself and your business.
#2:  What specific tasks are you looking to outsource to your virtual assistant?
#3:  How many hours do you estimate that you are going to need from your virtual assistant each month?
#4:  Are there any specific characteristics that you look for in a virtual assistant?
#5:  How do you prefer to communicate?
#6:  Is there anything else that I should know?
In this episode I will touch on a few important things that you can ask that will benefit both you and your potential client. It is important to get to know a bit about your potential client a bit to establish some level of trust with them. I hope that the information in this episode will be helpful to you!
CHECK OUT OUR LATEST EPISODES
Best Free Programs for Virtual Assistants
STAY CONNECTED
Subscribe to The Virtual Assistant Advantage podcast on your favorite podcast app.  New episodes release every Thursday.  Also, Follow Me on social media:
Join my Growing Christian Virtual Assistant Advantage Facebook group.  In the Facebook group, we chat about all things virtual assistant related and I do a weekly Facebook LIVE on topics to help you grow your business.  I'd love to have you in the group so I can get to know you!