Today I would talk about what someone should consider as they set up a virtual assistant business when it comes to money.  Really think about what budgeting for the virtual assistant looks like to you.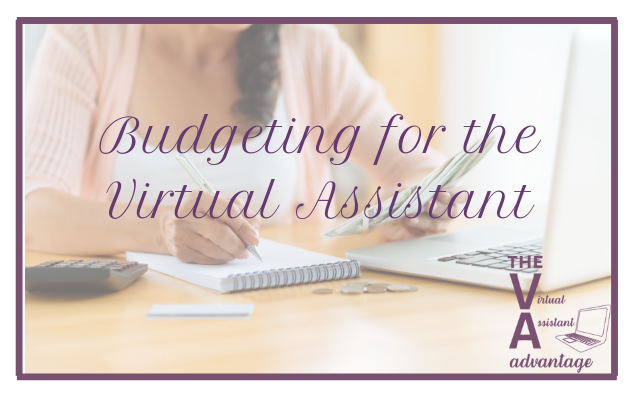 Anytime we start a business money is a big concern.  Thoughts can start running rampant through our heads like:
Can I afford this?
How much is XXX going to cost?
Can I really do this?
and the list goes on and on as we begin to freak out more and more.
Just slow down and breathe. (Now read that again)  Rome wasn't built in a day y'all. It's OK if you don't get everything done and/or figured out right no, today! Thinking about and setting up budgeting for the virtual assistant can help you to get things in order. It's all about baby steps.
Don't spend money to fast.  Let's talk about some of the basics before you go thinking about spending money or start taking out loans or anything drastic.
Basic Needs
You're right, there ARE some basic needs that a virtual assistant must have to run their business efficiently and effectively. Some of these things include a computer, high speed internet, a phone and a quiet place to work.
Your computer doesn't need to be the latest thing to come out with all of the bells and whistles. While that would be nice it is definitely not very practical or cost effective when you are first starting out. As long as it can run basic programs and the internet your golden!
High speed internet will make your life/job so much easier!  Granted, not everywhere has high speed available so we must work with what we have available to us but, working virtually requires you to be able to connect quickly and easily so it will save you in the long run to invest in a reliable internet service provider.
You really don't need a separate phone line dedicated only to your business.  You just need a way to connect with your clients should the need arise.  You can get a Google Voice number (there is a free option) that will ring directly to your personal phone.  This way you don't have to give out your personal number to clients.  You also get voicemail with your Google Voice number so they are able to leave you voicemails.
Even though it would be great to have an entire room to dedicate as your office, many people just don't have that room to spare. THAT'S OK!  You can set up your work space in the corner of a bedroom or the living room, clear out a corner of your closet, or even set up and organize a storage system and work at the kitchen table!  Be creative with it!  Remember, it's all about what works best for YOU and YOUR BUSINESS!
Handling Your Business Finances
I know, we're all more worried about making money and finding clients but it is SO important to have a solid budget in place.  If nothing else , set up a separate PayPal account or checking account (or both) in order to keep your business finances separate from your personal finances.  This makes things much easier when tax time rolls around.  And if you are still working out how you will get paid, I would like to invite you to read this blog post How to Get Paid as a Virtual Assistant which my help you!
It's also a really good idea (not to mention it's important) to track your income versus expenses. You can do this in a lot of different ways depending on your personal preferences. You can make a spreadsheet, you can use QuickBooks, etc.
As always, I hope you have enjoyed Budgeting for the Virtual Assistant here on The Virtual Assistant Advantage Podcast.
I hope you have a great rest of your week, stay safe and I look forward to connecting with you again next week!
STAY CONNECTED
Subscribe to The Virtual Assistant Advantage podcast on your favorite podcast app.  New episodes are released every Thursday.  Also, I'd love it if you would Follow Me on social media:
Join my The Virtual Assistant Advantage Facebook group.  In the Facebook group, we chat about all things virtual assistant related and I do a weekly Facebook LIVE on topics to help you grow your business.  I'd love to have you in the group so I can get to know you!  It is a great place to network and ask questions.
Also, check out the Become A Virtual Assistant Course here.