In Customer Service and the Virtual Assistant, I combine the topics of customer service and systems because the two go hand in hand.  Both are extremely important aspects of a virtual assistant business and its success.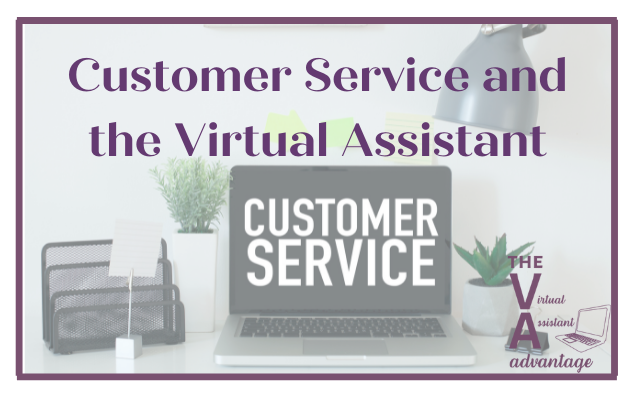 First off, I would like to thank all of those who reached out to me while I was on a short hiatus from the podcast.  Sometimes we need to rejuvenate and get back that get up and go. I am very happy to be back and raring to go! So, let's jump in!
Systems
Having systems in place will save you both time and money as well as help you keep the clients you already have. You can set up your systems once and they will pay off repeatedly.
What are Systems?
They are a method or way of getting things done to put it simply. They are your step by step blueprint of getting things completed.
Some examples of different systems are:
templates
checklists
flow charts
visuals
step by step directions
It is basically your blueprint of how to do anything and everything in your business. AKA your SOPs (Standard Operating Procedure).
You can create SOPs specifically for  your business in areas like:
marketing
scheduling
client leads
client intake
project management
password protection
client relations
time tracking
document sharing
Just to name a few.
Your SOP will help your business to run smoothly.  This will also play a part in the relationship you build with your clients. This is where customer service comes in.
These systems are the cornerstone of the customer service portion of your business.  Because these systems are in place you'll be able to provide the utmost care in customer service and be better able to meet the expectations of your clients.
Customer Service
In my opinion, customer service goes above and beyond what your client's expectations by delivering the unexpected. Under promise and overdeliver.
What does it mean to "under promise and over deliver"
When you talk to a client about how soon you can have their work completed be very realistic. You may think you can have it done in one week but, if you tell your client two weeks and deliver it to them in one you will have over-delivered.
You want to set good expectations. Just imagine the joy your client will experience when you deliver their completed project to them three days early.
My goal: When I tell a client I will have their project completed in two weeks I strive to complete it early so as to over-deliver and surprise them.
Willingness to call or be available to receive a call.
Because of our dependence on technology like email or text messaging, many people refuse to pick up the phone.
A one-on-one voice conversation is invaluable for the initial, get-to-know-you session with a client.
People appreciate the genuineness of a conversation and it helps them to get to know you, to like you, and to trust you.
It's also good to be available when problems come up. If you take calls by appointment only that's ok. If you expect your clients to schedule an appointment rather than calling you spur of the moment let them know this. Let your clients know this during your onboarding. List this in your Policies and Procedures.
Take the time to get to know your client's expectations.
How often do they want to hear from you?
How do they prefer to communicate?
Every client is different so, you want to ask these questions upfront instead of assuming anything.
Establishing these things can set you up for success and a positive client relationship from day one.
When you go the extra mile in your customer service it gains you repeated clients who may also refer you to others looking for your services.
The more clients you have, the more important it is to stay organized. It is much easier to have things in place from the start instead of waiting to set everything up once you have a full client load and are overwhelmed.
Tune in next week when we will be talking about the different models there are for a VA business.
As always, I hope you've enjoyed "Customer Service and the Virtual Assistant" here on the Virtual Assistant Advantage podcast.
I hope you have a great rest of your week, stay safe and I look forward to connecting with you again next week!
STAY CONNECTED
Subscribe to The Virtual Assistant Advantage podcast on your favorite podcast app.  New episodes are released every Thursday.  Also, I'd love it if you would Follow Me on social media:
Join my The Virtual Assistant Advantage Facebook group.  In the Facebook group, we chat about all things virtual assistant related and I do a weekly Facebook LIVE on topics to help you grow your business.  I'd love to have you in the group so I can get to know you!  It is a great place to network and ask questions.