Have you thought about the concepts of Choosing Your Virtual Assistant Niche & Services? This is what I want to talk with you about today.  I also share with you 25 Ways to VA and offered a free download.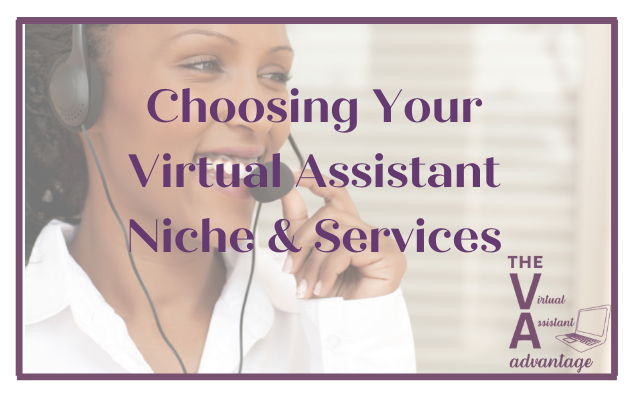 To start out as a virtual assistant you really need to determine 2 things before you set up your business:
Your niche
Your services
and I am going to help you with that!
What is your niche?
Niche: the situation in which a business's products or services can succeed by being sold to a particular kind or group of people.
Basically, this is your target market of people that you are wanting to work with.  In the Virtual Assistant world, this can be just about anyone.
Your niche can be anyone from doctors or lawyers to health coaches and pastors or anyone in between.
How do you choose a niche?
This really is an important step. Not only will it determine who you will work with but also what services you might offer them.
Sometimes you can determine what you are going to offer first them think about the types of people who will buy your time and/or benefit most from these services.  If you already know your talents and what services you want to offer it may be beneficial to you to reverse these two tasks, deciding on your service list first and your niche second.
You can do a Google search for "virtual assistant niches" and see just how many possible virtual assistant niches there are listed (although I'm sure this is probably nowhere near how many there actually are) but, here are just a few:
Social media virtual assistant
Event planning virtual assistant
Transcription virtual assistant
Bookkeeping virtual assistant
Real estate virtual assistant
Author virtual assistant
A lot of virtual assistants like to carve out a brand new niche in order for them to stand out and this is really a great idea! The more unique you can make your products, services, and business as a whole the better!
Get creative and, whatever you do DON'T GIVE UP!
Even though most of these niches are pretty self-explanatory, it's always a good idea to do some research to learn more and decide which niche is right for you.
You can always try out different niches and services to find out what is right for you. Nothing is set in stone, you can always change your niche and service list at any time. You're in control and can make the choices that are right for you and your business.
Services
Consider these things when you are coming up with and planning your service list/offerings:
What do I enjoy doing?
What are my skills?
What programs/software do I have experience using?
What certificates and/or training have I received?
What skills and services are currently in demand? (Remember the answer to this will forever be changing. The answer will be determined by what is going on in the business world at that time.)
To help you get brainstorming and give you a little more knowledge, here are 25 things that people outsource to virtual assistants:
Craiglist or other ad posting
Discussion board participation
Answering support tickets
Blog commenting
Blog posting
Blog management
Social media setup, posting, and monitoring
Recruiting
Database building
Telemarketing
Project management
Powerpoint presentation preparation
Creating basic reports and spreadsheets
Recording minutes
Transcription
Hotel and flight booking
Calendar management
Research
File management
Receptionist duties
Follow up
Booking appointments
Setting up and maintaining autoresponders
 Setting up and maintaining shopping carts
Email management and filtering
This list can help you start to determine what tasks you're good at and what you want to provide.  You can also click here to download this list.
You can also learn NEW skills. While you are figuring out what you want to offer think long-term. Think about the things you will enjoy doing long term. You don't want to offer tasks that you won't enjoy doing long term.
CAUTION:  Don't take on a long-term client doing a task that you're not positive that you will enjoy working with long-term.
As always, I hope that this helps and that you enjoyed Choosing Your Virtual Assistant Niche & Services here on The Virtual Assistant Advantage podcast!
I hope you have a great rest of your week, stay safe and I look forward to connecting with you again next week!
STAY CONNECTED
Subscribe to The Virtual Assistant Advantage podcast on your favorite podcast app.  New episodes release every Thursday.  Also, Follow Me on social media:
Join my The Virtual Assistant Advantage Facebook  In the Facebook group, we chat about all things virtual assistant related and I do a weekly Facebook LIVE on topics to help you grow your business.  I'd love to have you in the group so I can get to know you!