Let's talk about encouraging conversation with your email list.  As you email your list, build relationships by encouraging 2-way conversations. You can build good relationships through email messages. The key is to communicate effectively by giving them something interesting to think and talk about. These strategies and tips can help you start very informative and beneficial conversations.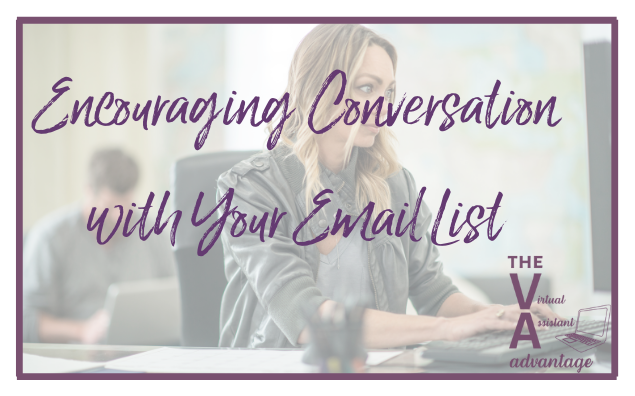 Before we begin I'd just like to tell everyone to make sure y'all stay tuned!  August makes one year since the launch of The Virtual Assistant Advantage podcast (and I am so excited and want to thank y'all so much for listening!) and I am planning on how we're going to celebrate this event as we speak!  So be sure to come celebrate with us!
4 things you want in place to begin having engaging conversations with your email list
Make sure that your "reply" email address is one that you are active with and check on a consistent basis.  You don't want people wondering if you will ever email them back.  Make it easy for them to get in touch with you!  Avoid those "Do Not Reply" addresses.
Be open and sociable.  Talk as though you're speaking to a friend and that only one person is reading the email.  Use singular pronouns and ask open-ended questions.  Do what you can to encourage conversations.
 Share behind-the-scenes information.  Make them feel as though they are your friend.  Ask them for feedback.  Ask for their opinion.  Make them a part of what you are building.
 Inform them about events.  Let your list know about events or things that are a "big deal" before you begin doing any official promoting.  They'll be happy to be the first to know and they'll begin to feel closer to you and trust you more.  they deserve to get insider information.  Make them YOUR top priority and you will find that YOU will become THEIR top priority!
As always, I hope you've enjoyed Encouraging Conversation with Your Email List here on The Virtual Assistant Advantage podcast.
This episode has been sponsored by the Virtual Assistant Advantage .
I hope you have a GREAT rest of your week, stay safe, and I look forward to connecting with you again next week!
STAY CONNECTED
Subscribe to The Virtual Assistant Advantage podcast on your favorite podcast app.  New episodes are released every Thursday.  Also, I'd love it if you would Follow Me on social media:
Join my The Virtual Assistant Advantage Facebook group.  In the Facebook group, we chat about all things virtual assistant related and I do a weekly Facebook LIVE on topics to help you grow your business.  I'd love to have you in the group so I can get to know you!  It is a great place to network and ask questions.