In today's episode, I am talking all about Why I Believe You Should Be an Eternal Student.  I believe this is so important, not just for people in business but for everyone (but of course being a business owner I tend to talk more about the business aspects).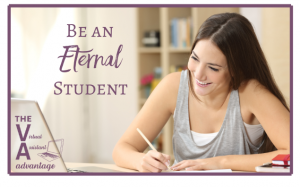 Why should we Be an Eternal Student?
There is ALWAYS something new to learn!  Especially if you work in a virtual world like I do, things are continuously changing and updating.  If you are not a life learner you won't keep up with the tech and you will find it almost impossible to keep up with your client's needs if you don't stay up to date with the changes in the technology you use.  And, even if we find certain tasks and/ or tools we love and don't want to do anything else, we still have to keep up with all of their updates.
New skills equal new experiences and opportunities.  The more you learn, the more new "jobs" or services you will be able to offer to bring you more clients.
If you are always learning it will be easier for you to adapt and prepare for the unexpected.  In the world we live in today, (especially right now) there are SO many unexpected things that can (and sometimes will) happen at the drop of a hat.  For example, we may have a client that comes to us needing something completely different done than normal.  If we do not continue to learn we may not know how to do that task.  If we continue to learn we can simply say, "No worries, I can do that."  There may be times when it can mean losing a client to someone who continued to learn and explore new things versus being able to continue working with them because we stay learning and exploring.
Learning leads to confidence and growing your abilities.  I don't know about you but, when I learn something new, not only am I excited but I am confident in my ability and find myself talking about what I learned, sometimes without even realizing it.
Learning helps to spark new ideas.  When I learn new things, I am excited and happy and consciously looking for new ways that I can USE what I have learned  Whether this comes in the form of creating new packages, looking for new clients that need the service utilizing what I just learned, or even doing things to spruce up my own business to make it look or function better.  Either way, it ends up being a WIN all the way around.
The ultimate point I am getting at is, only greatness can come from continuing to learn and broaden your horizons.
STAY CONNECTED
Subscribe to The Virtual Assistant Advantage podcast on your favorite podcast app.  New episodes released every Thursday.  Also, I'd love it if you would Follow Me on social media:
Join my Virtual Assistant Advantage Facebook group.  In the Facebook group, we chat about all things virtual assistant related and I do a weekly Facebook LIVE on topics to help you grow your business.  I'd love to have you in the group so I can get to know you!  It is a great place to network and ask questions.