In today's episode, we are talking about What Does it Mean to be a Subcontractor and answering some of the most common questions people have about subbing.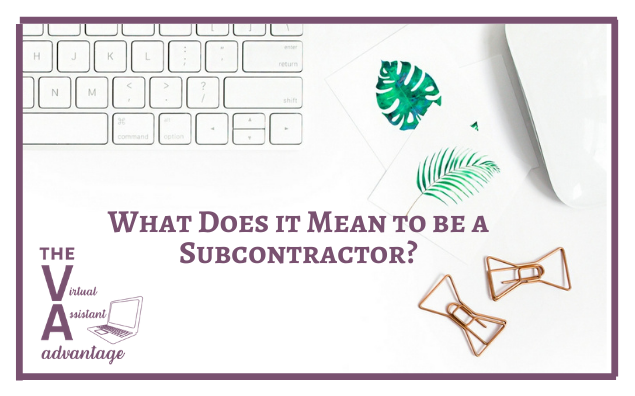 There are many things to think about when beginning to be a subcontractor, like:
How will I get paid?
How much should I charge so that it is worth my time but still cheap enough so the contractor makes money and will think of me when something else comes up?
Will I work directly with the contractor or with the client?
It can be scary at first but, once you work with a good contractor (or more than one if you so choose), it will become less scary and you may find that you are having more money coming in than what you first expected.
I have found that the more you put yourself out there and stepped outside of your comfort zone, the more great things start to come your way.  Yes, it may feel strange at first and you may be self-conscious but, isn't building the business of your dreams and having time freedom worth it?
STAY CONNECTED
Subscribe to The Virtual Assistant Advantage podcast on your favorite podcast app.  New episodes released every Thursday.  Also, I'd love it if you would Follow Me on social media:
Join my The Virtual Assistant Advantage Facebook group.  In the Facebook group, we chat about all things virtual assistant related and I do a weekly Facebook LIVE on topics to help you grow your business.  I'd love to have you in the group so I can get to know you!  It is a great place to network and ask questions.