In today's episode, I will share some questions with you to help you know if your potential client is ready to outsource.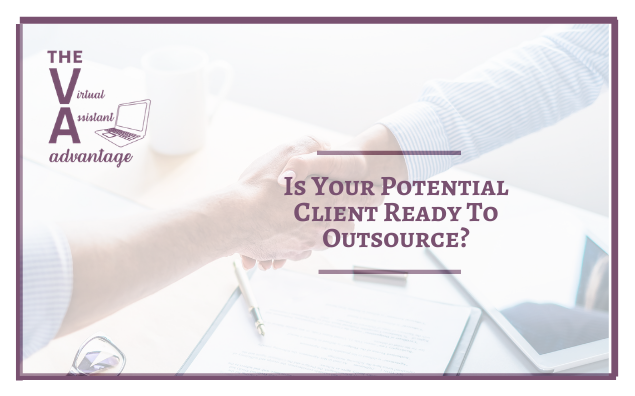 It is very important for virtual assistants to be aware of questions they should ask to know whether or not their potential client is ready to outsource tasks or projects.
Sometimes the potential client themselves don't really know.  Some people still don't know what a virtual assistant is or what all tasks they can help with.  This is why it is imperative that the VA knows these questions and is willing to ask them so that they will get their VA-client relationship gets off on the right foot.
This simple step will also help the business owner to be able to understand if they will work well with the virtual assistant or even to fully know whether or not they are ready to begin working with a virtual assistant.
Do you know what tasks or projects you would like to outsource?
What is your budget?
Are you willing to let go of this task and let someone else complete it for you? (You would be surprised with how often a person will think they are ready to do this but they really aren't.)
Do you have all of the information together that you will need to share with me?
You can also create a client contact form on your website for potential clients to fill out when they are scheduling a consultation call with you.  You can make it multiple-choice, fill in the blank, or a mix of both.
A form like this has so many benefits.  It helps you to guide the conversation to find out all of the information you need.  This is also a good way to be able to show the client all of the different ways what you can do can be of benefit to them.  You may also give them some ideas that they had not thought of.
Doing this helps both the client and the VA to make sure that they are on the same page moving forward.
STAY CONNECTED
Subscribe to The Virtual Assistant Advantage podcast on your favorite podcast app.  New episodes released every Thursday.  Also, I'd love it if you would Follow Me on social media:
Join my The Virtual Assistant Advantage Facebook group.  In the Facebook group, we chat about all things virtual assistant related and I do a weekly Facebook LIVE on topics to help you grow your business.  I'd love to have you in the group so I can get to know you!  It is a great place to network and ask questions.