Today we are talking all about analytics, and specifically what analytics can do for you to help you grow your business.  Our focus will be on Google Analytics, why you want to install Google analytics on your website, and how it can help you.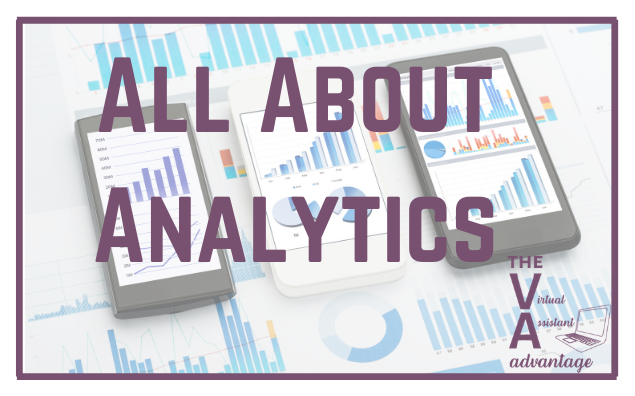 I choose to focus on Google Analytics because Google is the biggest search engine at this point in time.  It is very simple to use Google analytics on your website.  You do need a Google account to set up and use Google analytics.  Simply go to google.com/analytics to sign up.  It will then give you a code to put in the header/footer of your website.  An even easier way, if you are using WordPress is to use a plugin. I, personally, recommend using the Google Analytics Dashboard for WordPress plugin.
Why and How Google Analytics Can Help You
It will help you to see the important data from your website.
You want to learn what people are searching for on your website and what is most interesting to them.
You want to learn what your top content is.
Find out which campaigns/ads are bringing in the most traffic.  You want to make sure that all of the work you are putting in is helping to create headway and also bringing in a return on your investment.
You want to identify your worst-performing pages.  This is so you can figure out why those pages aren't doing well, which will help you to improve your website.  You always want to be improving your website.
By studying your analytics you are able to get the information you need to continuously improve your website and work to bring in more traffic which will also increase your ROI.  Finding out and learning all about analytics will help you to make informed decisions based on your findings in order to always be making your website better and more interesting for your followers.
I hope that you find this information useful and that you will return to join us again next week when we will be talking about the important elements of a website.
STAY CONNECTED
Subscribe to The Virtual Assistant Advantage podcast on your favorite podcast app.  New episodes released every Thursday.  Also, I'd love it if you would Follow Me on social media:
Join my The Virtual Assistant Advantage Facebook group.  In the Facebook group, we chat about all things virtual assistant related and I do a weekly Facebook LIVE on topics to help you grow your business.  I'd love to have you in the group so I can get to know you!  It is a great place to network and ask questions.