Today, we will talk about why you need more than one email list.  In some cases, depending upon the autoresponder system you use the terminology may be different, but basically, you need to be able to have more than one segment/group / or list so you can send personalized messages based on the needs of the subscribers.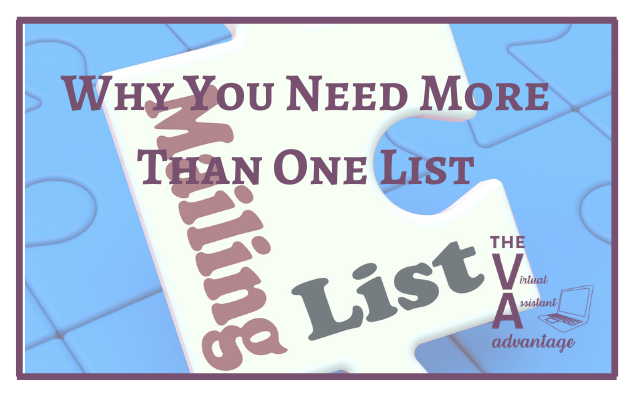 Why You Need More Than One List
Determine your audience's motivation.  Having a general list ignores some important information about your audience (what motivates them, what makes them want to take the next step with you, and why did they sign up for your list).
Get more action and response. You will have some people who will open all of your emails and some who rarely open an email.  By knowing who regularly opens your emails you can stop wasting time sending limited-time offers to those who rarely open your email in the first place and concentrate on sending those offers to your active list.
Help manage where your audience is coming from. One reason you have more than one landing page is to track where your audience is coming from.  You can also use tags to track your audience as well.  Whether they are coming from specific events, or they bought specific products, etc.  When you know they came from a specific event you can speak to them about that event.  Or, if they bought specific products you can talk to them about that and let them know when you release things that are similar.
Understand why they signed up.  You are missing the point if you group them in one big generic list.  You speak to the people in your personal life differently based on their "position" in your life and you should do the same with your list. Put people in a list based on where they signed up if nothing else so you will have more insight into what they are looking for.  This gives you so much more power over how you can communicate with them and so you know where they came from, what triggered them to sign up, and, based on their behavior you will learn more about them as well as where/how you should target them.
Next Steps…
If you haven't listened to this entire series I encourage you to listen to it in its entirety (it is all episodes having taken place during the month of April 2021). If you have listened, you understand that email marketing offers you a very real way to build a relationship with your audience and a relationship can indeed be done via email.
2.  Choose an autoresponder software, such as Active Campaign, MailerLite, or MailChimp. (It's always a good idea to try the free trial and look into the options each different program gives you before going "all in" with one particular software.  Just like clothes, one size does not always fit all.)
3.  If you have thought of some different ways to improve your results, get started right away.  Beginning now is always better than waiting and letting everything build up before you begin (work smarter, not harder).
There are so many ways to improve your lists to bring you better returns and help to build your relationships which will eventually begin to raise your ROI.
I hope that has been helpful to you.  Next week we will start our series on WordPress and I am looking forward to sharing my tips and tricks I have learned thus far in my journey with you!
STAY CONNECTED
Subscribe to The Virtual Assistant Advantage podcast on your favorite podcast app.  New episodes released every Thursday.  Also, I'd love it if you would Follow Me on social media:
Join my The Virtual Assistant Advantage Facebook group.  In the Facebook group, we chat about all things virtual assistant related and I do a weekly Facebook LIVE on topics to help you grow your business.  I'd love to have you in the group so I can get to know you!  It is a great place to network and ask questions.