In this week's episode of The Virtual Assistant Advantage Podcast I am sharing with you thirteen lessons that I have learned from thirteen years in business which I celebrated this week.  Thirteen years in business teaches a person many lessons so I thought I would share those with you.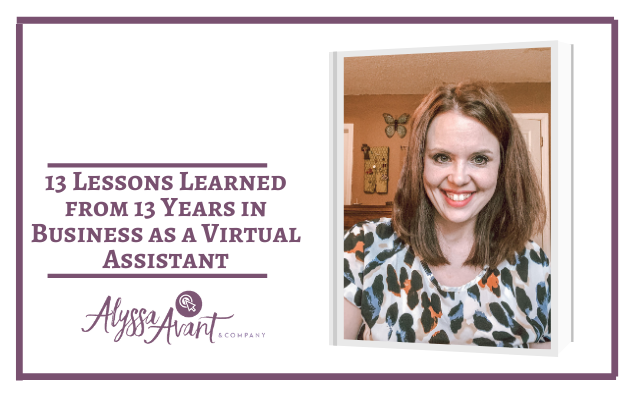 Don't take on a client just to have a client (use a screening process).

Always your leads and follow up with each one.

Always market your services.

Charge what you're worth.

Time blocking saves you time.

Open your mouth! Tell others about your business.

Ask for referrals.

Niche down (select a specific service to provide or cater to a particular type of person).

Set clear boundaries such as office hours and communication tools you utilize.

Realize you are an expert to others.

Believe in yourself.

Don't quit.

Don't be afraid to invest in your business and yourself.
STAY CONNECTED
Subscribe to The Virtual Assistant Advantage podcast on your favorite podcast app.  New episodes release every Thursday.  Also, Follow Me on social media:
Join my  Virtual Assistant Advantage Facebook group.  In the Facebook group, we chat about all things virtual assistant related and I do a weekly Facebook LIVE on topics to help you grow your business.  I'd love to have you in the group so I can get to know you!