In this episode, you will hear from Taneil Evans, a Christian VA and homeschooling mom of 2.  This episode should be great motivation for anyone who is on the fence about becoming a virtual assistant or just feels as though they are stuck in their VA business to not give up.  Who is ready to get some encouragement from another VA who has been in the trenches.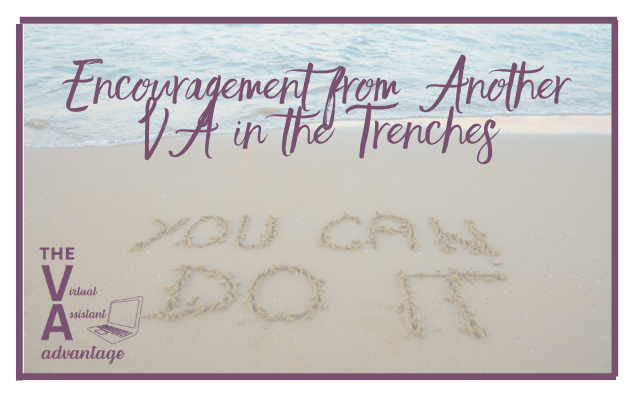 Here are just a few takeaways you can expect from this episode:
No one is saying beginning your own business, whether or not you have start-up capital, will be easy.  You really should pray about the bigger picture in its entirety, the good and the bad, so when the "bad" happens it will not shock you and you can continue to push through to see your business bloom.
Make a list if you'd like.  What are some of the things that you are allowing to hold you back?
If there is a will, there's a way.  You don't need any type of degree to learn the skills to do the jobs you love.  Just some creativity.  How will you be creative to "learn all the things"?
Go deep not wide.  Don't burn yourself out trying to learn everything.
Be consistent.  Even if there are 100's of comments on the post for a job you would love to do, comment anyway.  You may not get that particular job but, what about all of the other opportunities that may land at your feet because of that one simple comment?
Think outside of the box.
No matter where you are in life.  No matter if you have been doing this for years or you are just starting out, there is always more that we can learn, new things we could try to grow our reach even further.  Don't be too hard on yourself.  Remember that none of us are perfect but we are able to work with those imperfections to create greatness as long as we never give up.
Single, mom, grandmother, high school graduate, college student, any one of us can do this if this is our passion and what we truly wish to do in our lives.  God gave us a life to live.  He wants us to live it to the fullest (tomorrow is not guaranteed) and, in helping other business owners to grow their dreams we are not only growing our own dreams but making a small part of the world a little better.
Never underestimate your own abilities to do the things you wish to do and be BOLD and if you see an opportunity take it!  You cannot know what another person in business does or does not need.  Sometimes they don't even know unless we show them how we can help.  Take that step.
Sometimes all it takes is hearing and finding encouragement from another VA who has been in the trenches to give us the confidence to move forward in our own business.
STAY CONNECTED
Subscribe to The Virtual Assistant Advantage podcast on your favorite podcast app.  New episodes released every Thursday.  Also, I'd love it if you would Follow Me on social media:
Join my The Virtual Assistant Advantage Facebook group.  In the Facebook group, we chat about all things virtual assistant related and I do a weekly Facebook LIVE on topics to help you grow your business.  I'd love to have you in the group so I can get to know you!  It is a great place to network and ask questions.