Today I want to talk about Balancing Work & the Busy-ness of the Holiday Season. I would like to talk and give you 4 tips for balancing work and the busy-ness of the holiday season as a Virtual assistant.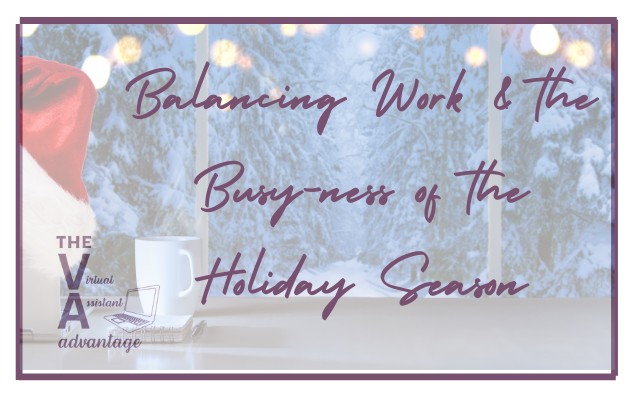 These four tips will help you to manage and balance your work along with all of the hectic, spur of the moment things that tend to come along with the holiday season which is now upon us.
As a Virtual Assistant and business owner this may look different for us versus people who work for an employer. Normally they are given specific days off were as we decide when we work or do  not work ourselves. This is a great thing but does come at a price. While we are able to take time off when we want we still must make certain that our work gets done completely and on time.
Tip #1 Give yourself permission to take time off
Just because we are business owners and Virtual Assistants does not mean that we shouldn't take time away from work. That is part of the beauty of owning a business and doing what we do. We can decide when we take this time and for how long.
You will find that you will be a better Virtual Assistant and business owner if you take that time away to rest and to appreciate and enjoy the holiday season.
Tip #2 Prepare Ahead of Time
This is going to look different for each of us. Whatever this looks like for you and your business, make the decision to prepare ahead.
Create a plan and prepare ahead of time in order to be able to take that time off while still getting all of your work completed.
Tip #3 Communicate
Always communicate ahead of time if you are planning to take the holidays off.
This is a good thing to do for your business especially if you are planning to take more than a couple of days off at a time.
Try to give your clients a week or more notice of the time you will be taking off. This will give them the opportunity to make sure that they are able to give you anything pressing that they need to get done during that time frame.
Tip #4 Work Ahead if Possible
Let's take Thanksgiving for example since it is next week.
Let's say that you are planning to take off Thursday and Friday. You have your business set up where you complete certain tasks on certain days and do work for certain clients on specific days as well. You know that, in order to fully take off on Thursday and Friday, you need to complete all of the things you do on those days no later than Wednesday evening.
Doing this makes things so much easier and helps you not have to feel like you are letting your clients down. You also won't feel like you are under pressure, no guilty feelings, no remorse, etc. By getting this done you will be able to fully enjoy your Thanksgiving and come back to start working fully rejuvenated!
Next week will be about structure and schedule in the life of a Virtual Assistant and all next month we will be focused on goal setting!
If you have any questions please feel free to email me. I would love to answer your questions here on the podcast.
Thank all of you for listening to Balancing Work & the Busy-ness of the Holiday Season and I will see you next week!
STAY CONNECTED
Subscribe to The Virtual Assistant Advantage podcast on your favorite podcast app.  New episodes are released every Thursday.  Also, I'd love it if you would Follow Me on social media:
Join my  Virtual Assistant Advantage Facebook group.  In the Facebook group, we chat about all things virtual assistant related and I do a weekly Facebook LIVE on topics to help you grow your business.  I'd love to have you in the group so I can get to know you!  It is a great place to network and ask questions.